Along for the Ride
Greetings, friends! Today I'm honored to be able to be a guest over at
Along for the Ride
. Laura, the delightful mastermind behind Along for the Ride, is an amazing woman of God and I've enjoyed following her adventures for the past several months. Make sure you click the link below and check out my featured post on her blog, as well as enjoy the amazing words of encouragement she has to share.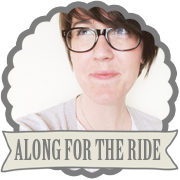 If you're visiting from Along for the Ride, WELCOME!! I'm so glad you're here! I've got some great projects in the pipeline and I'd be honored if you'd try Pig & Paint out for a bit. Feel free to make yourself at home.....in fact, you can check out

My Projects

and

My Home

. And make sure you check out

My Boxer

, because she's pretty much the bee's knees.
Cheers!